Check out the BEST of the Slo-Mo action from the first 8 races of the 2015 NHRA Mello Yello Drag Racing Season. You can't keep your eyes off it.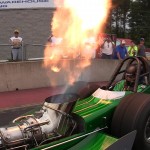 Second pass of the day for Tim Arfons in the recreated turbine-powered Green Monster 19 front engine dragster. His best pass to date at 7.25 199.38 MPH, and creeping up on the first 200 MPH pass!
Curator Leslie Kendall takes Jay under the hood of this aerodynamic, three-wheeled Petersen Museum rarity, masterminded by Gary Davis.
Final Qualifying from the 46th Annual Toyota Summernationals at Old Bridge Township Raceway Park in Englishtown NJ.
On this episode of Dirt Every Day presented by 4 Wheel Parts, Fred shows how you too can get behind the wheel of a military truck by buying one on an online auction. Fred has had many big tough 4×4's that were military surplus vehicles, but none as massive as the Stewart and Stevenson LMTV he gets from Gov-Planet, an IronPlanet marketplace, online auction site that sells surplus vehicles such as Hum-vees and deuce and a half trucks. Fred then takes the big truck on a wild adventure as he tries to prove that a giant military veteran can be a great daily driver and off road explorer.
On this episode of HOT ROD Garage presented by Lincoln Tech David Frieburger and Tony Angelo will show you how to get the most out of an affordable paint job. Our hosts will run through what to expect from a Maaco paint job, and what you can do before and after paint to really maximize your finished product. We've taken our rusty, banged up 1974 Chevy Panel Van and turned it into a sleek, less banged up Red Rocket! The MSD Atomic Surf Van looks ready to roll on Hot Rod Magazine Power Tour 2015.
SCHULTZ RACING OUTLAW NITRO FUNNY CAR 6.27 @ 237 MPH SYDNEY DRAGWAY
KWIKTORK RACING SC/O BLOWN ALTERED 6.30 @ 214 MPH SYDNEY DRAGWAY