This time around, Freiburger and Finnegan travel to Santa Rosa, California, to drive a crazy '74 Mazda REPU mini-truck all the way back to SoCal, where they'll compete in Optima's Search for the Ultimate Street Car Challenge.
The Mazda is an oddity, originally powered by a rotary engine but later converted to Olds Toronado front-wheel drive drivetrain sometime in the late-1980s. With a 455ci big-block and '69 Toronado transaxle slid between the rear frame rails, the seller claimed wheelies and 10-second ETs. However, Finnegan and Freiburger quickly discover their $5,000 mini-truck has more style than substance. Can they hang with the big dogs at the races?
Jeff Lutz Destroys Tires on a 2016 Camaro SS
A man who would find a way to win, Rickie Smith traveled the long, hard path to being a drag racing legend. Ten championships prove he's more than reached the pinnacle of success.
Smith, who was born and raised in King, NC., started his driving career behind the wheel of a bulldozer while drag racing on the side. He is credited with killing a class because of his success, and later becoming one of the fiercest gameplayers on the starting line.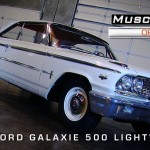 This week's video features a car that looks sedate as can be but reveals a startlingly different personality once the key is turned. The factory-built 1963 Ford Galaxie 500 Lightweight features an R-Code 427 for power, and nearly all the non-essential items have been deleted or lightened for better drag strip performance in the Super Stock NHRA class. There were around 200 built, and this one is as true to form as they come. One of the many factory lightweight Muscle Cars in the Brothers Collection.
Qualifying and elimination rounds from the Outlaw Radial class at the APSA Sydney Grand Final round of 2015. The field is dominated by turbocharged V8 engines.
Qualifying and elimination rounds from the X275 Radial class at the APSA Sydney Grand Final round of 2015. The field includes turbocharged six cylinder and V8 powered cars.
You NEVER know what you're going to see at the annual Byron Wheelie Contest! In this case, a MONSTER 600+ foot wheelie that ended badly as the driver took an immediate b-line for the wall upon coming down from his wheelie. We're happy to announce that the driver walked away with no injuries and even won 1st place! This was an event we know we can't miss next year!
A terrible sight seeing one of our good friends in the no prep grudge racing world flip his Nitrous Camaro multiple times totaling the car at the Redemption 4.0 No Prep race at Kennedale TX Texas Raceway this weekend. As you can see he gave Kye a run for his money until about 300 feet out where he lost traction. His strong chance to win against the Big Block Nitrous SHOCKER Camaro from Mississippi got the best of him and he got back in it, losing traction much worse the second time sending him towards the wall. When he corrected to keep it out of the wall it sent the car into a slide catching the tire just wrong, and his car flipped multiple times.