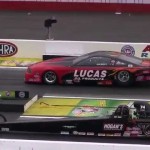 Running nine-tenths under your Competition eliminator index is absolutely bad to the bone, especially with OEM Ford 4.6 L cylinder heads & block. This is exactly what turbocharged racer John Mihovetz of Ontario, Ca., did during the NHRA AAA Finals when his 5.920 elapsed time put him atop the field. He also established himself as the quickest-ever Comp eliminator racer.
HOTROD.com presents an after-hours hyperlapse of the cars in Central Hall during the 2014 SEMA Show
Funny Car driver Jon Capps had a wild ride during qualifying at the Auto Club NHRA Finals in Pomona. Capps walked away uninjured.
When the Petersen's 4-Wheel & Off-Road team needed a truck to lead this year's Ultimate Adventure they decided to start with an old Dodge. The truck started out as a retired airplane tug, but was transformed into a trail-slaying diesel adventure machine. On this episode of Dirt Every Day, Fred takes you behind the scenes of this amazing project truck for the final days of the build-up before heading out on Ultimate Adventure 2014.
Has it been that long already? Yup, we are 34 episodes deep into this thing we call Roadkill and although this episode might seem like we are mailin' it in, we are in fact not slowing down at all. This is the good stuff, the moments that didn't make the cut because we just couldn't fit them in, and the inside dirt on what really happens when we hit the road with 20 bucks in our pockets and a headful of good ideas. Sit back, pop open a few cold ones, and take a trip down memory lane with Freiburger and Finnegan as they reminisce on puking dogs, smashed hybrids and why nobody seems to like it when they drive to Alaska. Next month we'll be back with an even bigger episode of Roadkill so stay tuned.
Hot Rods & Hobbies' Scott Bonowski takes Jay for a ride in the woodie he restored for Eric Johnson.
The 1969 Chevelle SS 396 was a hot car, but the COPO program allowed for a run of 427 cars to really take Super Stock drag racing by storm. However, Don Yenko at Yenko Chevrolet one-upped the COPO cars with 99 special 1969 "SYC" Yenko Super Car Chevelles further modified to his liking. This 427 cubic-inch monster features a 4-speed, and it is one of only 12 built in Garnet Red. From The Brothers Collection.
A pair of Novas from Solid Performance Tech caught our attention at Albuquerque's ALL OUT CALL OUT drag race – It's no secret we love boosted cars, 'sleepers' (although this one doesn't quite fit the bill), and beautiful muscle cars, so we were all over these to badass machines!